Reserve Meeting Room & Conference Room Rentals In NYC
When you need a meeting room rental in New York City, Davinci is ready to help. With our wide variety of room types, sizes, and locations all around New York City from Harlem to Hell's Kitchen to the southside of Brooklyn, you have plenty of options to find the perfect meeting room. Each New York City meeting room provides you with a clean, professional environment fully equipped for all of your business needs. To help your meeting start off on the right foot, your guests will be welcomed and directed to the meeting room by a lobby greeter. Plus, each room is equipped with wireless internet and LCD monitors and projectors to help your meeting succeed. Each NYC Davinci location is equally convenient and ideal for your business needs.... more
Call a meeting planner at 877-424-9767
See on map
2 Meeting and Workspaces In New York City, New York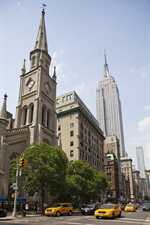 276 5th Ave




New York City

,

NY

,

10001

United States

Mon-Fri, 9:00 AM-5:00 PM
276 5th Ave




New York City

,

NY

,

10001

Mon-Fri, 9:00 AM-5:00 PM

See on map
Real-time Availability

After Hours Available
Pricing starts at $20.00/hr
1115 Broadway
New York City, NY, 10010 United States
Mon-Fri, 8:00 AM-5:00 PM
1115 Broadway
New York City, NY, 10010
Mon-Fri, 8:00 AM-5:00 PM
See on map
Real-time Availability
Davinci Video Conferencing
Pricing starts at $45.00/hr
NYC Meeting Rooms Rentals
Davinci Meeting Space and Meeting Room Rentals in NYC
Hip-hop artists make it or break it here. Financial moguls cut their teeth here. Fashionistas find their muse here. Foodies flock here. At this point, Manhattan is an icon unto itself. It is home to more storied districts and legendary addresses than anywhere else in America—possibly the world.
Need to get together with some movers and shakers in the business sector? Grab a spot in the Financial District. Prefer to indulge in some retail therapy once your workday ends? Book a meeting room in NYC near the galleries and shops in SoHo. Want to celebrate a new business deal with some decadent Asian cuisine? Try a meeting space in the East Village.
No matter where you need to be in Manhattan, Davinci has you covered. Davinci is part of that NYC culture with Manhattan meeting rooms all across the island–from the Financial District, way up past Central Park. You'll find Davinci's meeting spaces in NYC around nearly every corner in the city.
Modern Meeting Space NYC
Without your own corner of real estate and meeting space in NYC, hosting clients, presenting new plans, and working alongside other entrepreneurs can be tough. Davinci Meeting Rooms in NYC makes it easy to carve out a space to work and meet. In a city that never slows down—or even sleeps—we have a range of professional meeting spaces and meeting room rentals in NYC that let you put your best face forward among leading corporations and creative minds.
When looking at meeting space rentals in NYC there are some iconic areas that will give you a head start in making a stellar first impression. New York is home to some of the most prestigious neighborhoods in the country, and Davinci has meeting rooms in nearly all of them. If you really want to woo investors, book a meeting space in the Empire State Building—that way, even if your hedge fund manager loses the invite, she'll still know where to find you. From Hell's Kitchen to Tribeca, you'll easily find one of Davinci's meeting spaces NYC for your next event.
Davinci's meeting spaces in NYC offer:
- Vast selection of meeting spaces and venue locations with real-time availability
- After-hours availability
- A professional environment
- An on-site administrative assistant who will provide a professional first impression
- Administrative support to ensure your meeting runs smoothly
- State-of-the-art technology including audio-visual equipment
- Local phone, network connection, and high-speed internet access
- Catering options
Hourly Meeting Rooms NYC
NYC may be where thought leaders meet, but even the brightest ideas need business resources to help them develop. That's why Davinci's hourly meeting rooms NYC are all equipped with state-of-the-art features and can be paired with prime professional services.
With convenient access and affordable hourly rates, your event will have the professional touch it demands, at a price you deserve.
- Hot desk (Starting at $25)
- Coworking space (Starting at $15)
- Day office (Starting at $20)
- Workspace (Starting at $10)
- Small conference room (Starting at $25)
- Medium conference room (Starting at $35)
- Large conference room (Starting at $45)
- Boardroom (Starting at $50)
- Training room (Starting at $35)
- Event space (pricing varies)
Davinci provides affordable meeting space and executive business suites at great discounts. We are confident you will find Davinci Meeting Rooms and meeting spaces in NYC to have the highest quality and service available.
Browse our listings and choose your next meeting space rental with us today.
Jon Hicks
Wonderful! From the space, cleanliness and friendliness of the staff on site...our entire team was impressed! Thank you! We'll be back!
Search thousands of locations