2 Meeting and Workspaces Near Levent, Turkey
Yapi Kredi Plaza No: 40-41 K: 17 34330




Levent

,

Istanbul

,

34330

Turkey

Mon-Fri, 8:30 AM-5:00 PM
Yapi Kredi Plaza No: 40-41 K: 17 34330




Levent

,

Istanbul

,

34330

Mon-Fri, 8:30 AM-5:00 PM

See on map
Affordable and Flexible

Davinci Video Conferencing
Pricing starts at $20.00/hr Minimum 8hr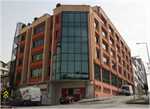 Yeşilce Mh. Yunus Emre Cd.
Levent, Istanbul, Turkey
Mon-Fri, 9:00 AM-6:00 PM
Yeşilce Mh. Yunus Emre Cd.
Levent, Istanbul,
Mon-Fri, 9:00 AM-6:00 PM
See on map
Affordable and Flexible
Davinci Video Conferencing
Pricing starts at $25.00/hr
Levent Meeting Rooms
Levent is a gorgeous coastal neighborhood located near Istanbul. You can find this community on the European side of Istanbul located on the western edge of the Bosphorus Strait. Levent is among the main locations in the Istanbul metro area, and it is known for its diverse architecture that includes corporate skyscrapers, charming homes, and historic architecture.
As a primary business district in Istanbul, Levent offers considerable professional opportunities for local residents to prosper and thrive from. It has one of the fastest growing economies in the region, and it is home to many corporate headquarters and branch locations. Top industries and business sectors in this area include industry, transportation, shipping, vehicle manufacturing, and production of numerous exports.
With numerous professional companies located in the area, there is a considerable demand for facilities to be used as meeting rooms in Levent. Hotels are one venue option that provides event space to rent for temporary meetings, and these rooms can be large or small in size. However, when looking for places to reserve with cheap deals for both long-term and short-term needs, we have the conference rooms in Levent that are the right solution for your needs. Our private rental space is available for you to book today at great rates. Book your reservations for our meeting rooms in Levent, Istanbul, online.
Davinci Meeting & Conference Rooms™™ is a leading provider of short-term and long-term meeting rooms for professionals. We offer offices ranging from touch-down space for an hour to cost-effective workplaces for weeks at a time. With a global footprint spanning more than 850 cities, we maintain a thousands-strong portfolio of temporary meeting spaces.
We even provide value-added business support services in Levent covering everything from receptionist services to catering. Davinci Meeting Rooms makes it easy for businesses with tight budgets and limited resources in Levent to project a "big business" image without breaking the bank. To learn more about Davinci custom meeting space solutions available in Levent, call us at 1-877-4BIZRMS (1-877-424-9767) or click on the above listing for more details on your preferred Levent location.
Jon Hicks
Wonderful! From the space, cleanliness and friendliness of the staff on site...our entire team was impressed! Thank you! We'll be back!
Search thousands of locations