Reserve Meeting Room & Conference Room Rentals In Roswell
When you need to have a meeting in Roswell, Davinci is ready to help with a variety of meeting space rentals throughout the city. Each meeting room rental provides you with a clean professional environment fully equipped for all of your business needs including the latest technologies such as wireless internet, LCD monitors, and projectors. You'll also be greeted by a lobby greeter who will welcome and direct each of your guests to your meeting. All Davinci meeting room and conference room rentals in Roswell are ready to make your meeting convenient and successful.... more
Call a meeting planner at 877-424-9767
See on map
2 Meeting and Workspaces In Roswell, Georgia
300 Colonial Center Parkway




Roswell

,

GA

,

30076

United States

Mon-Fri, 8:30 AM-5:00 PM
300 Colonial Center Parkway




Roswell

,

GA

,

30076

Mon-Fri, 8:30 AM-5:00 PM

See on map
Affordable and Flexible

Davinci Video Conferencing
Pricing starts at $40.00/hr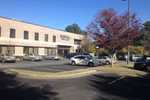 760 Old Roswell Road
Roswell, GA, 30076 United States
Mon-Fri, 8:00 AM-5:00 PM
760 Old Roswell Road
Roswell, GA, 30076
Mon-Fri, 8:00 AM-5:00 PM
See on map
Affordable and Flexible
After Hours Available
Pricing starts at $60.00/hr
Roswell Meeting Rooms Rentals
A quiet borough just north of Atlanta, Roswell is a historic settlement that provides businesses with a full range of amenities without the high price tags associated with the city center. Roswell is well-known for being home to a huge range of unspoiled natural resources and a slower pace of life, but it's still heavily connected to the rest of the state via five major highways.
As a small suburb of Atlanta, Roswell is one of the area's prime locations for corporate rental facilities. Firms reserve meeting rooms in Roswell in order to work with their colleagues and establish a long-term regional presence during trade shows and similar events. Short-term conference rooms in Roswell allow companies to book places at lower rates than they would find within Atlanta itself.
We make it easy to find meeting rooms in Roswell, GA, and our online tools facilitate simple reservations. Reserve a private space or a large open venue for your next business gathering, or rent a temporary meeting room near Roswell to broker deals with the many major firms and international organizations that operate out of Atlanta. Use our cheap deals to discover the ideal solution for hosting your professional interactions in style.
Davinci Meeting & Conference Rooms™™ is a leading provider of short-term and long-term meeting rooms for professionals. We offer offices ranging from touch-down space for an hour to cost-effective workplaces for weeks at a time. With a global footprint spanning more than 850 cities, we maintain a thousands-strong portfolio of temporary meeting spaces.
We even provide value-added business support services in Peachtree Corners covering everything from receptionist services to catering. Davinci Meeting Rooms makes it easy for businesses with tight budgets and limited resources in Peachtree Corners to project a "big business" image without breaking the bank. To learn more about Davinci custom meeting space solutions available in Peachtree Corners, call us at 1-877-4BIZRMS (1-877-424-9767) or click on the above listing for more details on your preferred Peachtree Corners location.
Jon Hicks
Wonderful! From the space, cleanliness and friendliness of the staff on site...our entire team was impressed! Thank you! We'll be back!
Search thousands of locations