Reserve Coral Springs Meeting Rooms & Conference Rooms In Florida
Need some face time with your team? Davinci has you covered for meeting room rentals in Coral Springs, Florida. Located just 20 miles northwest of Fort Lauderdale, our fully equipped Coral Springs meeting rooms provide a physical space for in-person meetings so you can get together with employees, clients, co-workers, community groups, and more. You can rent by the hour or day. When it comes to true teamwork or impressing a client or potential investor, there's nothing like a face-to-face meeting. No matter the size of your group, you'll find a Coral Springs meeting space rental to fit your needs.... more
Call a meeting planner at 877-424-9767
See on map
2 Meeting and Workspaces In Coral Springs, Florida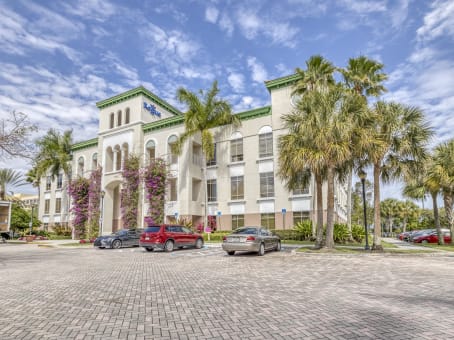 11555 Heron Bay Blvd.




Coral Springs

,

FL

,

FL 33076

United States

Mon-Fri, 8:30 AM-5:00 PM
11555 Heron Bay Blvd.




Coral Springs

,

FL

,

FL 33076

Mon-Fri, 8:30 AM-5:00 PM

See on map
Real-time Availability

Davinci Video Conferencing
Pricing starts at $16.00/hr

Please call for after-hour bookings
9900 W. Sample Road
Coral Springs, FL, 33065 United States
Mon-Fri, 9:00 AM-5:30 PM
9900 W. Sample Road
Coral Springs, FL, 33065
Mon-Fri, 9:00 AM-5:30 PM
See on map
Affordable and Flexible
Davinci Video Conferencing
Pricing starts at $25.00/hr
Coral Springs Meeting Rooms
Coral Springs is a sprawling city well-known for its strict building codes to maintain an old-style, quintessential Florida appeal. The recent downtown revitalization plan now features a new government center, retail, and office areas with over 3 million square feet total. The city features a regional economy with consistently low unemployment and above-average wealth levels. It is also near to locations like Miami Beach and Fort Lauderdale Airport.
Along with a low corporate tax base, companies can take advantage of the assistance offered by the Coral Springs Economic Development Foundation. The foundation is focused on creating the best environment for business and offers planning and zoning help, demographic and economic data, technology assistance, and financial assistance. Small and large companies can also find access to capital through the Broward Alliance.
It's easy to book meeting rooms in Coral Springs, FL. Conference rooms in Coral Springs are also available. Reserve space long-term, short-term, or temporary. Making rental reservations for meeting rooms in Coral Springs is the ideal solution for saving money. You can find cheap deals online and the ideal venue equipped with full facilities. Book and make reservations for rental rooms with just the right amount of space. The rates are great, and you can rent in a variety of private places in Coral Springs.
Davinci Meeting & Conference Rooms™™ is a leading provider of short-term and long-term meeting rooms for professionals. We offer offices ranging from touch-down space for an hour to cost-effective workplaces for weeks at a time. With a global footprint spanning more than 850 cities, we maintain a thousands-strong portfolio of temporary meeting spaces.
We even provide value-added business support services in Coral Springs covering everything from receptionist services to catering. Davinci Meeting Rooms makes it easy for businesses with tight budgets and limited resources in Coral Springs to project a "big business" image without breaking the bank. To learn more about Davinci custom meeting space solutions available in Coral Springs, call us at 1-877-4BIZRMS (1-877-453-4055) or click on the above listing for more details on your preferred Coral Springs location.
Jon Hicks
Wonderful! From the space, cleanliness and friendliness of the staff on site...our entire team was impressed! Thank you! We'll be back!
Search thousands of locations