Reserve Meeting Room & Conference Room Rentals In Washington
For your next meeting, using a Davinci meeting room rental in Washington, D.C. is the perfect solution when you need a temporary, professional space to do business. Located across the Potomac River that borders both Maryland and Virginia, Washington D.C. is known as the place where many of the most powerful people in the world work. To make the perfect first impression, each D.C. office building features a lobby greeter who will welcome your meeting attendants and show them where to go. And, with wireless internet, LCD monitor, and projectors standard in every room, you'll be fully prepared to make that successful pitch or presentation. ... more
Call a meeting planner at 877-424-9767
See on map
2 Meeting and Workspaces In Washington, District of Columbia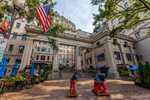 1455 Pennsylvania Avenue NW




Washington

,

DC

,

20004

United States

Mon-Fri, 8:30 AM-5:00 PM
1455 Pennsylvania Avenue NW




Washington

,

DC

,

20004

Mon-Fri, 8:30 AM-5:00 PM

See on map
Real-time Availability

Davinci Video Conferencing
Pricing starts at $45.00/hr
1025 Connecticut Avenue NW
Washington, DC, 20036 United States
Mon-Fri, 8:30 AM-5:30 PM
1025 Connecticut Avenue NW
Washington, DC, 20036
Mon-Fri, 8:30 AM-5:30 PM
See on map
Real-time Availability
Davinci Video Conferencing
Pricing starts at $25.00 total
Washington Meeting Rooms Rentals
For Shared Office Space in Washington DC, Davinci Has It All
In politics, as in business, success is about savvy maneuvering to move forward. When you're meeting for a conference, presentation, or training session, a nimble strategy can make all the difference in the world.
So consider Davinci Meeting Rooms as your own personal super PAC. You might not have a lobbyist, but you can have a greeter in the lobby of your rented Washington, DC meeting space. Forget long leases and hunting for random office space in the outskirts of town. Maneuver yourself to the front of the line when you book meeting space in Washington, DC.
Whether you need to meet up for a conference, expo, or simply need a home base for a long-term project, we have you covered.
Conference Room Rental in Washington, DC
Even if you only need to host clients for a 2-hour meeting, you can find exactly what you need at Davinci Meeting Rooms. Need a big TV for a video conference? Require catering or administrative support? You can search for these amenities and more, and find the meeting room that's ideal for your situation.
Best Business Areas in Washington, DC
With political power players around nearly every corner in our nation's capital, you won't have to look very far for a prime meeting space. Here are some of the most popular neighborhoods in and around DC for conducting business with the city's movers and shakers:
There are few addresses more famous than 1600 Pennsylvania Ave. So why not book your pick of meeting rooms in Washington, DC near the White House? Whether you're hosting a training session for your remote workers or presenting your business plan to new investors, they won't soon forget the location. And, should you need a jolt of inspiration, a stroll along the National Mall should suffice.
You might also want to book a meeting spot in the Gold Triangle District near Connecticut Avenue. Here you'll find numerous thought leaders and business executives within walking distance, and can easily gather a group in an ideal meeting venue location. You'll be close to George Washington University, the shops and restaurants in Georgetown, and upscale hotels around Dupont Circle.
The District of Columbia can't hold all of Washington's business within its borders. Davinci has facilities in Arlington near the Pentagon, along the cobblestone streets in Old Town Alexandria, and close to the Naval Medical Center in Bethesda.
The Beltway is the famous highway system that circles the city, and Davinci has over a dozen locations along its route. From Tyson and Reston in Virginia to Laurel and Gaithersburg in Maryland, you're sure to find a Davinci meeting space in the Washington, DC suburbs that meets your needs.
Why Davinci Meeting Rooms in Washington DC?
When you're meeting in a city of presidents and senators, there isn't time for weak handshakes and unimpressive meeting rooms. You need style, you need location, and you need amenities that will set the tone for the rest of your day.
With Davinci, you can count on meeting room services that include everything from parking validations to catering. Make your mark in one of the most famous cities in America by scheduling yours today. Contact us to get started.
Jon Hicks
Wonderful! From the space, cleanliness and friendliness of the staff on site...our entire team was impressed! Thank you! We'll be back!
Search thousands of locations