Reserve Meeting Room & Conference Room Rentals In Los Angeles
Are you hosting a meeting in Los Angeles? Davinci can help you pull off your meeting successfully, right from the start. Rent a meeting room in Los Angeles so you can make a good impression with a clean, professional, executive space. You'll have a lobby greeter for welcoming and directing your meeting guests and each meeting room is fully equipped with all the technologies you need (including wireless internet and LCD monitors and projectors). With locations spread out across the city, from Hollywood to LAX and everywhere in between, Davinci always has a convenient and impressive place for you to meet.... more
Call a meeting planner at 877-424-9767
See on map
2 Meeting and Workspaces In Los Angeles, California
11500 Olympic Blvd.




Los Angeles

,

CA

,

90064

United States

Mon-Fri, 8:30 AM-5:00 PM
11500 Olympic Blvd.




Los Angeles

,

CA

,

90064

Mon-Fri, 8:30 AM-5:00 PM

See on map
Real-time Availability

Davinci Video Conferencing
Pricing starts at $45.00/hr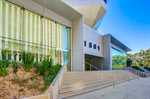 1801 Century Park East
Los Angeles, CA, 90067 United States
Mon-Fri, 8:30 AM-5:00 PM
1801 Century Park East
Los Angeles, CA, 90067
Mon-Fri, 8:30 AM-5:00 PM
See on map
Real-time Availability
Davinci Video Conferencing
Pricing starts at $55.00/hr Minimum 2hr
Los Angeles Meeting Rooms Rentals
Los Angeles is known for sunny skies, palm trees, Hollywood stars, and professional sports. It's home to world-class dining and recreation, and it's a stone's throw from some of the best beaches in the US. When you're in LA, there's a long list of things to see and do, and thousands flock here daily to experience it all.
The excitement of Los Angeles makes people want to live and work here, which makes the business environment no less exciting than the nightlife. From large, industry-leading corporations to innovative startups in every category, this city lends itself to success.
Small businesses, busy professionals, and solopreneurs alike will find something to love about doing business in LA. From the arts to the financial district and beyond, Davinci Meeting Rooms can help you find and book the ideal on-demand office space in Los Angeles. Whether you need a single office, meeting room, event space, or an impressive board room, we'll help you find and reserve it.
Whether your needs are just for one day or you need a long-term solution, and whether you want to work solo or collaborate with clients and co-workers, we can offer you space to do it—space that's well-equipped with all the necessary technology, such as video conferencing, TV/DVD equipment, WiFi, and more. Our office spaces are supported by administrative services, and many have catering available.
Ready to wow your clients, get some peace and quiet while you work, or rub shoulders with like-minded professionals? Book your Los Angeles meeting rooms now with Davinci Meeting Rooms. Browse your available options and pricing, then use our no-hassle reservation process to do business your way.
Jon Hicks
Wonderful! From the space, cleanliness and friendliness of the staff on site...our entire team was impressed! Thank you! We'll be back!
Search thousands of locations